​ACADEMICS
Attention Sophomores & Juniors,
Bridge Builders is a program that builds leadership and community success throughout the Memphis area. Applications for the 2019 school year are now available. Please see Ms. Ross in Guidance for more information.
A Bridge Builders representative will be in Guidance during all 4 lunches TODAY, Tuesday, January 15th.

THE ARTS
WARDROBE –It's that time of year again! Bartlett High School's literary magazine, "The Wardrobe" is accepting creative stories, poems, essays, photographs, songs, cartoons, and other creative and literary original works! If you'd like to submit your work, turn it in to Ms. Howard in room A27. Let Wardrobe be the vessel of the depths of your mind.

TALENT SHOW - ATTENTION ALL STUDENTS, FACULTY, AND STAFF
THE TIME HAS COME FOR THE MOST ANTICIPATED EVENT OF THE YEAR!
A SINGLE NIGHT
A SNGLE WINNER
AT SINGLETON COMMUNITY CENTER
WHO WILL PROVE
THAT BARTLETT'S GOT TALENT?
1-18-19 AT 5:30 PM
TICKETS ARE ON SALE DURING ALL LUNCHES FOR $10.
THIS IS A LIMITED SEATING ENGAGEMENT, SO GET YOUR TICKET NOW BEFORE IT'S SOLD OUT AND COME SEE THE BEST TALENT THAT BHS HAS TO OFFER.

All talent show participants please stop by and see Ms. Myers in W100 sometime this morning. Thank you.

GENERAL
WINTERFEST - Winterfest is Jan. 29th. Any girl with at least a 2.0 GPA and no disciplinary referrals is eligible for Winterfest court. If you are interested, you will need to find a club, team, or organization to sponsor you. Your sponsor will submit your name to Ms. Drewry no later than TOMORROW, Wednesday, Jan 16. You may campaign only after your sponsor has submitted your name to Ms. Drewry. Voting for Winterfest Court will take place during 5th period on Wednesday, Jan. 23th.

BEANIES ARE BACK - Our "fan favorite" is back and we've added a new style!! Come see Mrs. Craddock in M205 while supplies last!!

PARKING – Students, you MUST have a parking pass to use the 2 student parking lots behind the school. There are 20 passes left. You can purchase one from Dr. Filsinger for $30.00

BALFOUR – Attention Seniors – Your LAST opportunity to order graduation supplies is Friday, January 18th in the Senior Cafeteria during all lunches. Balfour will be here to collect orders and deposits. Also, if you ordered any wearables earlier this year, those will be available to pick up. Extra info packets are available in the Main Office.

YEARBOOK IS YOURBOOK!
Final sales numbers will soon be turned into our publisher, so don't miss your chance to own the 2019 yearbook!
Sales at school will end this month. Go to the cafeteria at all lunches or online at yearbooksforever.com.
SEE YOU IN THE YEARBOOK!



CLUBS
FRENCH CLUB - There will be a mandatory French club meeting for French club officers (President, vice-president, secretary, and treasurer) TODAY, Tuesday, January 15th at 2:30pm in room W209. If there are any questions or concerns, please see Mrs. Faure.

SP0RTS
MANAGER NEEDED - Anyone interested in being a Manager for the Boys Track and Field Team, please see Coach Gardner in his classroom, NW 213.

LACROSSE - The fastest game on two feet, Lacrosse, needs a few good men for the upcoming season! Lacrosse is an exciting fast paced game that you can learn now and play for a lifetime. We can provide equipment and teach you the game in a matter of days. If you are interested, please stop by East #1 and see Coach Croft about joining.

TENNIS - Any student wishing to play tennis this year needs to attend a team meeting in w204 TOMORROW, Wednesday, 1/16/19 at 2:30.

WRESTLING - Come join the wrestling team TONIGHT for senior night AND the district championship against Houston and Kingsbury. Wrestling starts at 6PM at the 9th Grade Academy and student-admission is only $1. Again, $1 student-admission for wrestling's senior night tonight at 6PM at the 9th Grade Academy.

Powered by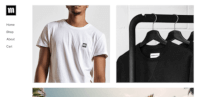 Create your own unique website with customizable templates.